Tweet
by Lori Cunningham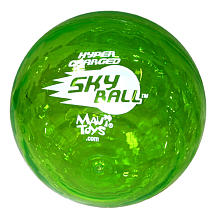 You may recall from my post, My Top Favorite Toys from the Toy Fair Part I, that the SKY BALL was one of my fave toys!
If you look at the ball you think, OK, it's cool looking but what's the big deal? The big deal comes into play (pun intended) when you bounce it! If you just drop the ball, it will bounce back to your hands. But, the real power comes when you slam it down to the ground….watch out….it's going to soar in the air. Seriously. This ball is hyper charged!
I didn't believe them while in their booth at the Toy Fair, so I called their bluff. To my surprise, the ball nearly touched the ceiling of the Javitt's Convention Center! Thankfully, it landed between the Maui Toys booth and another, not injuring anyone! This ball really packs some punch!
Not wanting to seriously injure anyone at the tradeshow, I asked if I could take a ball to review. Maui Toys obliged me. I couldn't wait to get back to California to try it out. There was no way I was going to try it in the streets of NYC – I was afraid it would land on a roof top.

Once back in California, my daughter and I put the ball to the test. Truthfully, I doubt I was able to get the ball up 75 feet. My ball went up probably 40-50 feet. My daughter was able to bounce the ball 30-35 feet. Obviously, you need a lot of strength to get the ball up 75 feet. So I called in our good friend and bootcamp buddy, Danger Dan. Dan slammed it! I'm sure it went 75 feet. Slick!
Nonetheless, for the wow factor, who cares if the ball soars 75 feet or 30 ft, it's just a thrill seeing what looks like a normal looking ball soar that high in the sky. My daughter and I had a blast with it.
I scoured YouTube to see what videos were uploaded using SKY BALL. There were tons of them! Here's a cute one from a family to show you how the ball can bounce…
SKY BALL has now expanded their products to include a baseball bat and skyball (can you imagine how far your hit would fly the ball???), footballs, and larger bouncy balls.

SKY BALL retails for $8.99 and can be find at mnay stores near you including Toys R Us, Target, Wall-mart, K-mart, Dick's Sporting Goods, and others. My son and I were surprised to find SKY BALLS for sale at our local grocery store, Albertson's.
* I was given a SKY BALL in exchange for my honest review.
Click on pen to


Tweet