by Lori Cunningham
At WellConnectedMom.com, we've talked about wireless routers before.  I love technology, but I'll admit, routers used to scare me.  So, what is a router?  It's a device that brings Internet into your house and usually comes from your phone or cable company.  Typically it resides in a closet somewhere and has a bunch of flashing lights.  Usually, your phone company's router is limited in what you can do with it.  Buying a second router that connects to your phone company's router gives you much more control and options for wireless in your home.

Why it's a Good Idea to Update Your Wireless Router
Today's routers are much more advanced than the router that your phone/cable company installed years ago when you started your service.  With the influx of connected devices in your home, like your Internet TV, Wi-Fi camera, numerous smartphones, tablets, gaming consoles (PS3, XBOX, Wii), Slingbox, etc. you are consuming much more Internet traffic than you used to.  Linksys Smart Wi-Fi wireless routers offer various routers dependent upon the size of your house and the number of connected devices.  Today, we'll cover the Linksys Smart Wi-Fi Router AC 1750 which is the largest capacity router, able to offer wireless further in a larger house and accommodate up to 7 connected devices and more.  I have 18 devices myself  that can connect to the Internet, though they are not usually on at once.
 For more details on the Linksys SMART Wi-FI Router AC 1750, see our more in-depth article at our sister site, TheWellConnectedHome.com.
Features
The Linksys SMART Wi-Fi AC 1750 router is one of the most advanced wireless routers available today.  It supports simultaneous dual-band 2.4 and 5 GHz frequencies and up to N450+ AC1300 Mbps speed.  Now I know that doesn't mean much to you, but basically it means it is fast and can accommodate older technologies based on the 2.4  GHz frequency as well as more advanced devices based on the 5 GHz frequency.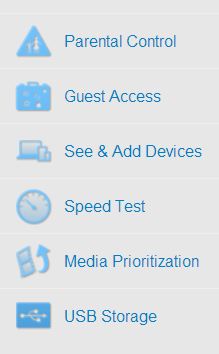 Today, setting up a router is relatively easy and they allow you tools to better manage your wireless device traffic, children's' use of devices, as well as offer guest access.  We will cover Parental Control, Guest Access, See & Add Devices, and Media Prioritization with further explanation in this article.
But let me briefly add that the Speed Test is helpful to finally learn how fast your Internet speed coming into the home is.  You pay for a certain speed from your Internet Carrier, now you can see if you're getting what you paid for. And the USB Storage feature of the AC 1750 is very handy too.  If you have some pictures, video, or music you'd like to share with the networked devices in the home, you simply plug your USB thumb drive in the back of the router and you can instantly make the data available.  You don't need to download the content to a PC first to share.  You can also plug-in a USB printer for access throughout your network for connected laptops as well.  Nice.

Parental Controls
Setting parental controls is very easy with the AC 1750.  Just click on the Parental Controls button in the Linksys Smart Wi-Fi Control Panel.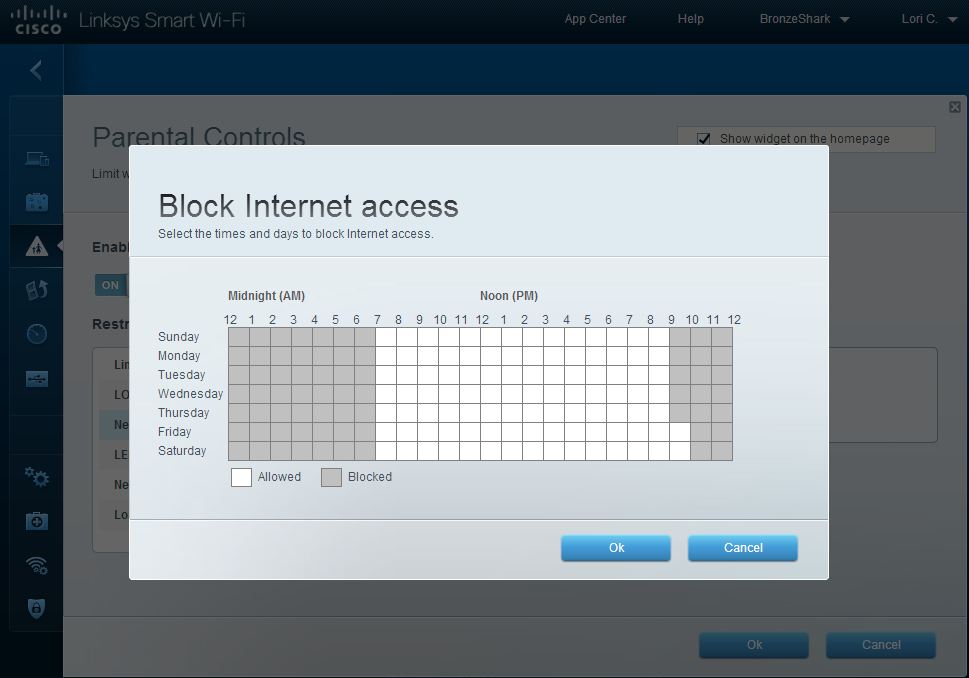 What I like about the Linksys' parental controls is that you can set control for each device, rather than a blanket control.  So you can limit time spent on your child's iPod Touch,your teen's cellphone, or your son's PlayStation 3 (PS3) Internet access.  There are two main controls you can set:
1.) Block Internet Access – choose which device you want to block times on and block Internet access by day and hour.  For my daughter's netbook, she has free access to the Internet from 7am to 9pm Sunday through Thursday, but get's an extra hour on Friday and Saturday nights.  Since she is only 10, she is never online this much, but this schedule gives her flexibility.  The other night I was checking on her at 9pm, and she had to stop her paper research because I set her time limit for that device to 9pm.  It was time for her to go to bed.
Keep in mind, your teen's cellphone will still have access to the Internet and the ability to make calls through your phone carrier's plan.  However, if s/he is using your WiFi to save minutes to surf the Internet, this is where you can shut down access at certain times and days.  Your best bet is to disallow cellphones in the bedrooms after a certain time, deterring late night talks, texting, and surfing.
2.) Block Specific Internet Sites – you can manually add specific sites you want to ensure certain devices in your home cannot get to.  If you have a pre-teen daughter, sites like Facebook, Gurl.com, Seventeen.com, Formspring.com, Missbimbo.com, and others are good to restrict.  You can easily add more as you think of them.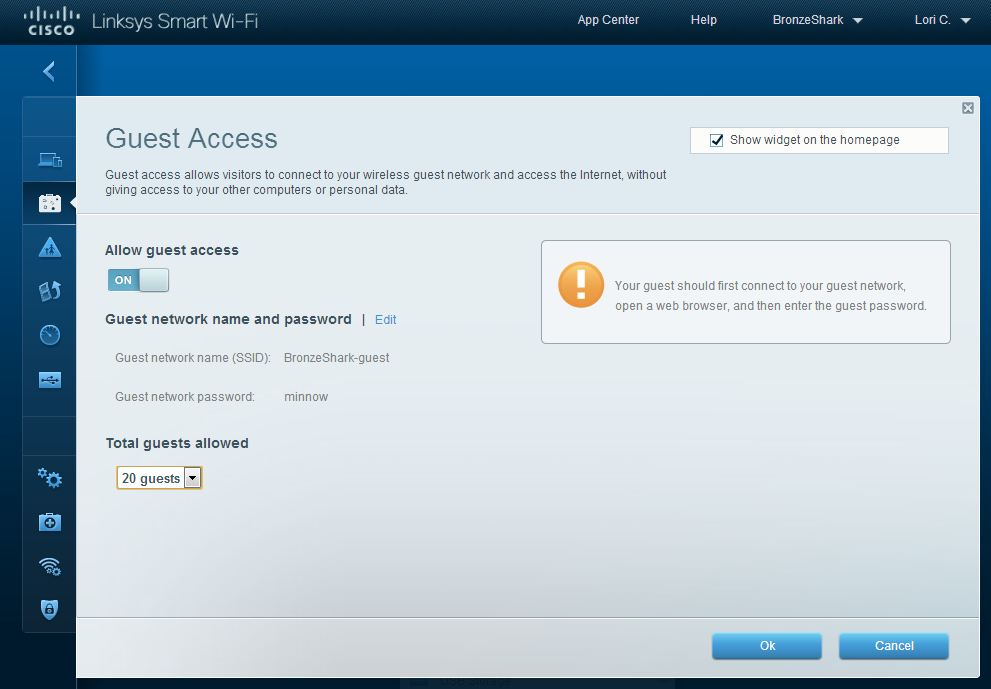 Guest Access
I love this feature.  Have you ever had adults, even kids ask you, "what's the password so I can use your wireless access?"  How I used to hate that question.  There's no way I'm going to give anyone, let alone kids, the sacred password to my wireless network security.  You want your wireless network private so no one else can access your private documents residing on your home computers.  I wanted to give them access but not at the cost of our security.
With Guest Access, you can allow anywhere from 5 guests to 50 guests to access your Internet network WITHOUT access to your private files.  You simply set up a guest password, in this case our password is minnow.  So when a friend/child now asks me to use our network, all they have to do is look for our Linksys network and connect to it.  Then open an Internet browser and they will be asked for the password.  After they type in "minnow", they will be able to tap into our WiFi to connect to the Internet, but not be able to access any content on any of our other connected devices.
Note that devices are set up to automatically connect with a network once it comes in contact with it.  So the next time your guest comes to your home, s/he will automatically be connected again…unless you change your password.  With better  friends, this shouldn't be a problem but if you have a party with people you don't know too well, I'd probably change the password again.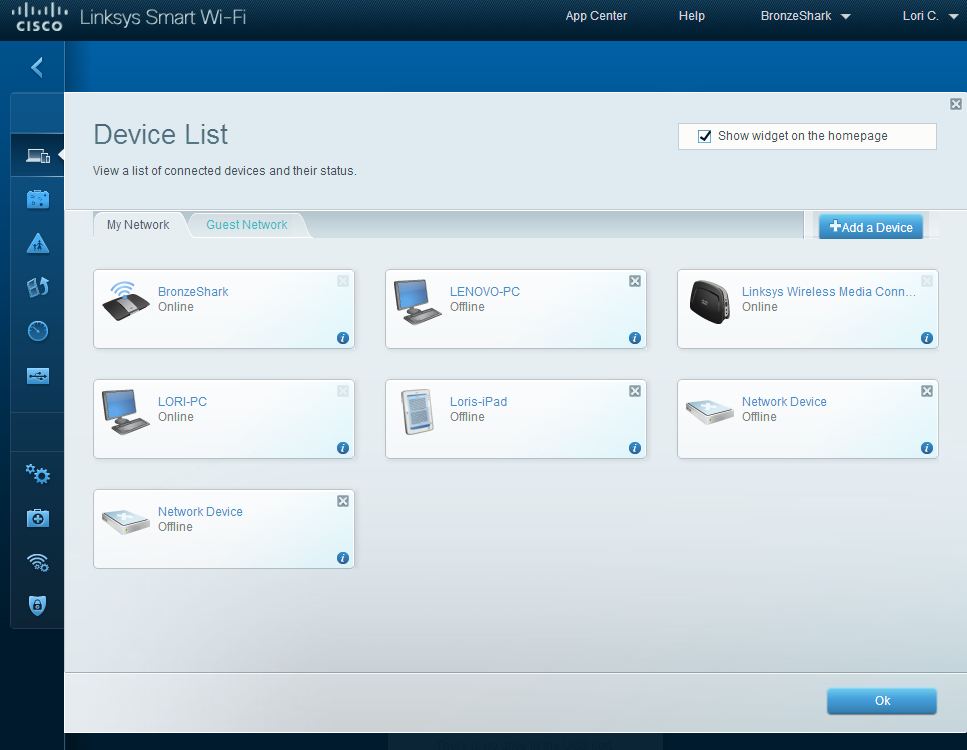 See and Add Devices
This is a nice graphical way to see which devices are currently or have in the past connected to your Linksys AC 1750 WiFi router.  You won't use this screen much, but it is interesting to see if someone in the house is using a device for Internet access…say your son who promised not to play his XBOX game online with others???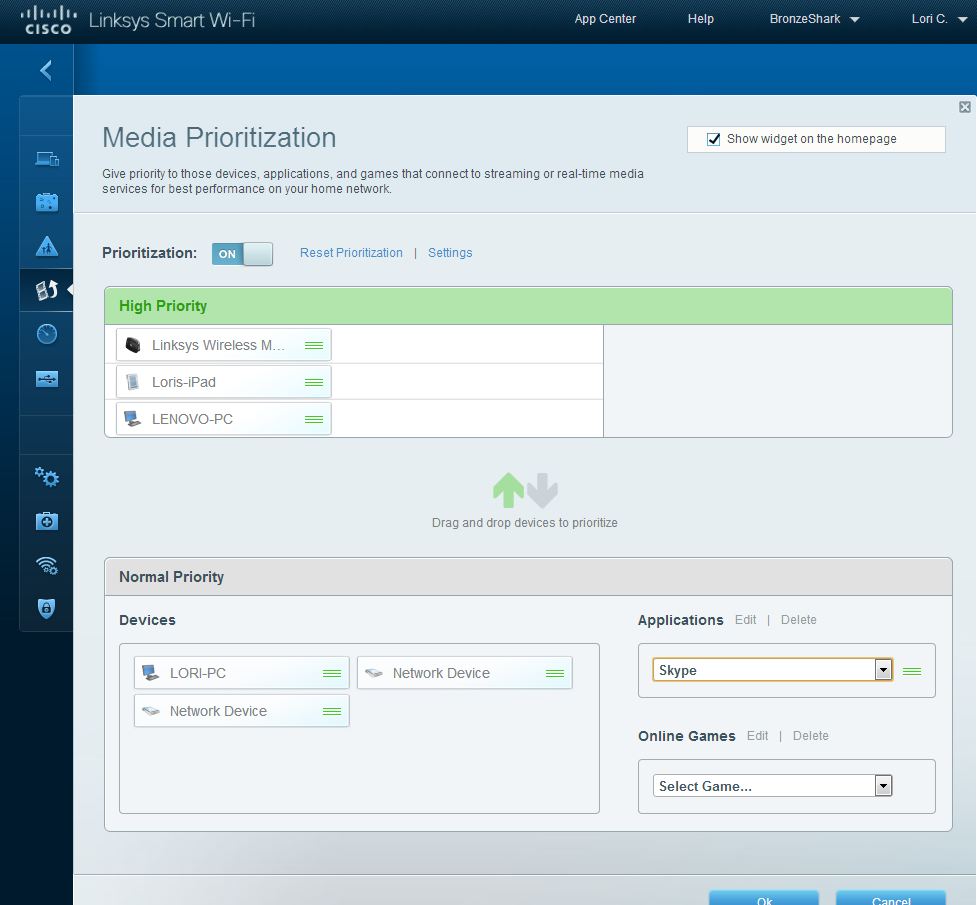 Media Prioritization
I have not seen this feature before on a wireless router before.  With the growing number of devices in a household and their connection to the Internet, your wireless router can only allow so much Internet content come in at one time.  If you happen to have 2-4 or more devices streaming content from the Internet, you're going to have a bottleneck and experience lag or buffering.  This can happen easily if two people are streaming Netflix or Hulu from the TV and or a tablet, one person is playing XBOX online, and perhaps another is playing an online app on their phone.  Granted, this amount of traffic doesn't happen all the time, but it's feasible on a weekend when everyone is home.
Using the Media Prioritization feature, you can click and drag your top devices from "normal priority" to "high priority."  This ensures the device with the highest priority will be given the top throughput available for your streaming and access to the Internet, followed by your second device, and so on.  I do not have my Internet TV's hooked up yet to this router, but if I did, I would make them the top priority.  And if they weren't being used, the devices that are on and streaming would take over as top priority, as designated on this screen.
The Linksys Smart Wi-Fi AC 1750 wireless router sells for $194.80 plus free shipping through Amazon.
There's an App for That
Actually, quite a few.  Apps are the way to go these days and perhaps you'd prefer an option to stay in tune with your wireless network without going to your computer or even while being away from home.  See our article at TheWellConnectedHome.com to learn more about these useful apps you can use from your phone to control your home network and controls.
A Mom's Perspective
I realize that even the thought of buying and installing a wireless router in your home is probably the last thing you'd want to do.  I can imagine just the thought of it could give you the shakes.  But in today's world with the advancement of connected devices in the home and kids who know how to use them, one of your best defenses against your children stumbling upon adult content or finding them constantly using the Internet is to ensure you have an updated wireless router with parental controls.  It has never been easier to limit Internet hours and block websites by each device than it is today.
And if you haven't had people asked you for Internet access for their devices yet when guests come, they will.  Especially your kids' friends who come over with their cellphones and iPod Touches.  Here's the kicker.  You can give them the access, but still control the content they view…even on your kids' friends' device.  Just login to the Linksys website and put parental controls on their device.  It's a great way to allow your children and their friends freedom while you still hold control.  Love it.
With the Linksys SMART Wi-Fi AC 1750 wireless router, you can now even prioritize your Internet consumption so your son's online game on Duke Nukem game doesn't slow down your Hulu Plus watching of Modern Family.  With the number of devices entering the home and the popularity of streaming video from Hulu, Netflix, YouTube, and more, prioritizing your devices will become more and more important.  With the Linksys Smart Wi-Fi wireless router, you get to choose which devices should have the most streaming throughput over the others.
So how about it, how much do you know about your wireless router?
* I was given a Linksys SMART Wi-Fi Router AC 1750 in return for my honest opinion.  All opinions are my own.