Editor's Note:  Congratulations to Cathy Marsh Casper for winning our Kobo Arc Tablet!  Enjoy, Cathy!

How often does your child ask to borrow your phone…or even just picks it up and starts playing with it?  My friend's daughter is 13 and every time my friend turns her back, her daughter grabs her mom's phone and begins texting friends.  Half the texts my friend receives are messages for her daughter!
I've been in the doctor's waiting room before and when waiting a while, my phone has provided a great distraction for my kids, (ages 7 and 10), as they watch a Netflix movie.  This works great until I realize I can't check my email's, send a text, or check my calendar.  So then I'm bored.
PlayMG has come up with a solution to help parents so their phone isn't hijacked anymore.  They have created a smartphone that isn't a phone for kids.  The PlayMG looks like a phone with a nice 4 inch screen, and it has the full capabilities of a smartphone with a full Android platform, yet it doesn't have calling capabilities.
So with the PlayMG around, your phone will be around too.  Kids can connect to the Android market via WiFi and download any apps their PlayMG memory will allow.  The PlayMG comes with 8GB,  16GB, and 40GB, but is also expandable, so you can insert a larger micro SDHC card, for up to 40GB of memory.  You don't have this kind of memory flexibility with the popular iPod Touch.
How Can You PlayMG in the Doctor's Office?
I'm guessing this question…or one like it…might a question in your mind, right?  After all, unless your doctor's office gives you free access to their WiFi, how will your child be able to use their PlayMG without a cellular signal?  While it's true they cannot connect to the Internet or play Internet connected games, PlayMG has already pre-loaded the device with a bunch of free, challenging, non-Internet dependent games.  These games are fun, well thought out, and there's a good variety of them.
Games include:

NBA Jam – Play basketball your favorite stars from all 30 NBA teams in this fast-paced 2-on-2 arcade game

9 Innings 2013 – A comprehensive fast-paced baseball game.

SwingShot – an Angry Bird type game except with monkeys hanging from the tree.  In this game, however, you are throwing rocks at other monkeys, who are evil.  You have to watch out though, because they throw stones back at you to wipe you out!

Inotia4 – An adventure fantasy story where you play a soldier to help save Eara, the influential Channel of Light

TouchDefense – my son loves this type of game on the PC.  You set up tanks to defend your territory.  They shoot automatically at the enemy but you have to put them in the right position so the enemy can't get to your base.

Slice It – this is a fun game.  Instead of slicing fruit, you slice circles, squares, triangles, etc.  You are asked to slice the object in such a way as to make 6 of the same item in equal size.  It then measures your slices to see how close in size your 6 triangles are and judges your attempt either a Success or Fail.  This is an addictive, engaging game.

Hot Pursuit – A fun, realistic racing game.  In one game,  cops are after you, you need to evade their pursuit
Other Included Games:
S.A. Hero – Super Action Hero – Become a hero and battle against mysterious forces of evil in order to protect the universe
Derby Days – Build the ranch you always wanted.  Care for your horses to be the best and compete with neigh-boring horses.
Tiny Farm – A  farm so small it fits in your hands, Tiny Farm is jam-packed with sweet surprises and endless possibilities
Homerun Battle 2 – Play the best Android baseball smashin' game against sluggers worldwide
In playing each of these games, I was very impressed with the graphics and the richness of each game.  These are not cheap games, but full, evolving games that are sure to engage your child's attention.  Although you can download any Android app you'd like from the Google Play Store…ABC's, shapes, and other baby and toddler games, the PlayMG is really geared towards an older child audience.  Just looking at the titles of the included games, you can see the PlayMG is geared towards tweens/teens…who are exactly the most likely to swipe your phone when you're not looking!
The games are tween focused, but if you'd rather not have your child play a racing game where you're being chased by a police car (Hot Pursuit), you can always delete it.  I did notice one word in the game Inotia4, was a poor word choice for kids.
Parental Surveillance
The beauty of the PlayMG device, for parents, is that it has built-in reporting to give parents a good overview of how the PlayMG is being used by your child.  You can pick up your child's PlayMG device anytime, click on the Family Collaboration app, sign in and find out which apps have been used, which ones have been recently downloaded, and how much time your child has spent on the PlayMG.  You will also receive a weekly report detailing this information to you in an email.

In the Family Collaboration app, you can see the PlayMG was used nearly 11 hours on Dec. 6th.  Although it was used a lot on this day, I suspect it was left running with a game playing, which of course, can throw off the statistics.

 This screenshot shows the different games and apps being used.  You can see it includes visits to the Google Play Store.  Note that your child will be unable to download any fee based apps unless you have put a credit card on their account in the Google Play Store.  S/he will be able to download free apps, but again, no in-game app add-on's that charge a fee.
Play MG Features:
4 inch Gorilla Glass (extra sturdy) screen
Expandable memory to 40GB
Lightweight
Full Android functionality (with exception of cellular service)
Comes pre-loaded with 10+ console style type games
Family Collaboration System – a remote monitoring email notification system designed to keep parents in the loop as to how the phone is being used
1.3 front facing camera
Pros:
Provides a good environment for teens – doesn't look like a little kids' device
Gives parents a built-in way to check in on their kids' activities remotely
Great built-in games, can be played without WiFi
Lightweight
Expandable memory – use insert a micro SD card
Headphone Jack
Face screen unlock – you can set it up to only unlock, when turning on, if it recognizes your face (discourages other kids from using/stealing)
Unless you provide credit card info, your child cannot purchase any apps/books/music on their own
There are thousands of free apps available on the Android market
The RAM memory is pretty good – I had 17 apps open at one time and the system did great – no crashing
No monthly fees
Cons:
No back facing camera with higher resolution for better pictures
The biggest issue seems to be the battery time.  Each morning the PlayMG battery is dead.  I'm not sure if this is because games are running when we turn it off or not.  This can be solved by plugging in the PlayMG each night
The PlayMG comes with a Prepaid Master Card in the box.  There's no money on it, but as soon as you place $10 on it, Play MG will match it with another $10.  So your child can have $20 to spend on books, music, or apps in the Android market.  I did not look into this other than to find there is a fee for using this card.  Google Play gift cards might be another good way to gift your child some Android spending money.
The PlayMG can be purchased directly from PlayMG website,   Toys R Us, Amazon, & select Target stores and it comes in different GB sizes.  You can buy the 8GB PlayMG for $129.99, the 24GB that we reviewed here for $149.99, and the 40GB for $169.99.  It is important to note that both the 24GB and 40GB versions come with a charger, whereas with the 8GB, you need to provide your own.  The 40GB version also comes with a case.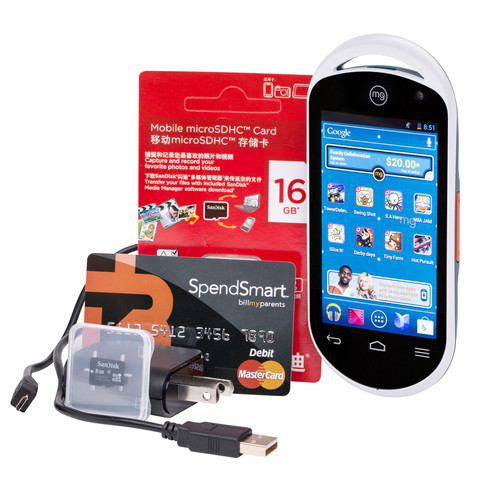 Win It!
We are excited to announce a giveaway of a PlayMG for your child!  Sign up below for your chance(s) to win a PlayMG, a $150 value (new low price, was recently listed at $179.99).  Unfortunately, we can't get it to you before Christmas, but you'll get it in the New Year!  Contest ends 12/31/2013 at 12 am.  US Residents only.  Must be 18 or over to win.
A Mom's Perspective
I was pretty impressed with the versatility of the PlayMG.  Most "kid" tablets/devices we see are too focused on the younger child.  PlayMG definitely caters to the  tween/teen.  They even have a built-in (on the home screen) app and  game recommendations from Disney actress Olivia Holt and Cleveland Cavaliers player, Kyrie Irving on an ongoing basis.  The PlayMG is lightweight and even has a built-in hold to slip a lanyard necklace through to place it around your neck.  Or you can use it to secure the PlayMG to your backpack or belt-loop.
The one thing that surprised me is that it does not have an outward facing camera.  Especially with tweenage girls who love to take pictures of their friends, this is a missed opportunity.
My daughter is 10 and she does not have her own phone/tablet, though she's been begging for one for years.  She is saving her money to buy one.  But with the built-in parental observances of the PlayMG, I'm thinking this is a perfect first non-smartphone for her…and me.  And allows her to have more independence yet gives me the comfort in knowing what she is downloading and how much time she is spending on her PlayMG.  And of course, it gives me more independence in allowing me to keep my phone in a waiting room…until my son begins asking for it!
Think a PlayMG would work in your family?  Be sure to sign up for our Giveaway above and try to win one!
*  I was given a PlayMG to facilitate this review.  All opinions are my own.