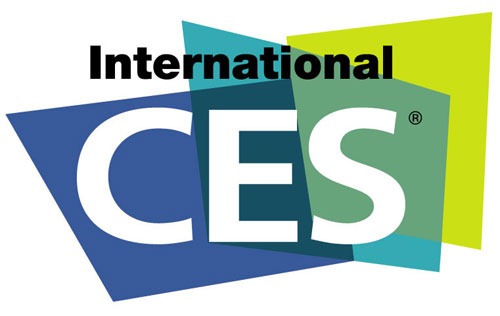 CES, the International Consumer Electronics Show, happens every year in January in Las Vegas.  It is a trade show geared towards buyers and media to showcase new products and product offerings by more than 3,200 companies.  WellConnectedMom.com attends every year, we wouldn't miss it!  This year, the International Consumer Electronics Show boasted it's largest yet with over 2 million net square feet of exhibit space.  I believe it because I could not get around to see everything this year.  Over 150 industry professionals attended, with nearly 35,000 of them from outside the US.
It's quite a show to see, and if you're a tech fan, it's a dream to be there.  WellConnectedMom has been there the last 5 years and each year we look forward to it.  We take hundreds of pictures, but none of them seem to capture the  scenes, the awe, and the thrill of being there.  We've posted some pictures in this article, but be sure to come back.  We will also be covering the top 5 trends we identified at CES as well as the top products for Moms.  Want to see more?  See some of the past year's articles of International Consumer Electronics Show in Pictures:   2011  2012  2013.

Samsung is one of my favorite companies.  They make fantastic products – they are not skimpy on their camera resolutions, they provide great built-in features and apps to make life more productive, and they produce a superior product.  Their entrance into their booth is always awe-inspiring.  This year, the entrance was so big, I could only capture a part of it, but it is always fascinating.

When you think of consumer electronics, cars are not at the top of your mind.  But every year, the space dedicated to car manufacturers and accessories gets bigger.  I always love to stop by the Ford booth to see what new apps they announce will now be a part of the FordSYNC system.  Ford announced the will soon offer ADT integration so ADT consumers can use their voice to control a good number of functions at home like open a garage door, turn down thermostat, unlock front door, etc..  A new partnership with Dominos allows drivers to order pizza and save the voice command for future orders.
Voice activation with Parkopedia helps drivers find parking places and obtain pricing all via voice commands.  And with Parkmobile, Ford drivers can pay parking fees through voice activation and the use of their phone.  Lastly, Gracenote HABU gives drivers more control of mood music by calling out in the car the type of music they are interested….
Easy-going, carefree, cheerful, charming, friendly
Romantic, sweet, heartfelt, love, loving
Energizing, pump me up, pump it, dance, motivate
etc.

Intel is always one of my favorite booths to stop by.  They always showcase the latest technology being used by their partners, which of course, use the Intel processors.  Intel processors offer incredible speed and graphics and allow for companies to innovate and ways never thought possible.  Stopping by their booth is always a look into the future.

One of the items I saw at the Intel booth blew me away.  It a baby monitor called mimo by Rest Devices.  Have you ever worried that your brand new baby would stop breathing?  How about when your baby is older and rolls over on its stomach?  Ever worry that your baby is too hot or too cold?  Although babies have a pretty good sound alarm (screams!) to let you know how they feel, most of the time, we are left in the dark.  With the new mimo baby monitor, you'll have more information than you ever dreamed of.  The mimo monitor is the plastic turtle on the onesie above.  The monitor comes as a part of the onesie, though it can be removed when the onesie needs to be washed.  The mimo monitor tells you the baby's temperature, movement, breathing, how well your baby is sleeping and when s/he fell asleep, and more.  Truly an amazing device.  Available in February for $199, for use with both the iPhone and the Android, the Mimo comes with three onesies and is available in three sizes.

Rest Devices also created a bottle warmer that you place next to the baby's crib.  The bottle warmer keeps the milk cold but when it hears the baby cry, it begins warming up the bottle for you.  Not only that, but it sends an alert to your Rest Devices coffee cup, pictured above, which uses LED lights to alert the parent.  What will they think of next?

Every year, CES heralds a new type of  TV.  You never know what's going to be the next big thing.  A number of years ago it was the Smart TV, then the 3D TV, then the 4K TV…this year it was the curved 4K TV.  Apparently having a curve to it gives everyone in the room a better angle and the experience becomes more immersive.  All the big players, Samsung, LG, and Panasonic featured these massive, beautiful, curved TV's.

Hmmm, I seemed to get off track at the Consumer Electronics Show and wondered upon the set of the Wizard of Oz, where I met a few new friends.  It was a happy digression.  Pepcom puts on digital showcases every year at CES to bring about 100+ exhibitors into one large ballroom.  This media-only event gives the press a better chance of seeing a lot of products all located in on central spot, as opposed to spread out on the showroom floor, encompassing 2 million square feet!  This year's theme?  The Wizard of Oz.

I love to see where fashion and technology meet and every year there are more and more offerings.  Cellphone cases offer great options and even headphones are, thanks to companies like Velodyne.  But take a look at these accessories from AR called, AR for Her.  See the purses?  In their own right they look cool…but they are not purses. They are wireless speakers!  You can transmit your music from your phone up to 30 ft. away!  So stylish!  R for Her also offers smaller colorful wireless speakers and even Zipstick – which is a fashionable portable phone charger in the shape of a lipstick.  Love it!

For a moment, I thought i was in a mattress store!  I don't recall ever seeing mattresses on the CES showroom floor before!  You can tell this was taken at CES by the man on the left lying on the bed, checking his email…I should have thought of that!  This was the Sleep Number's booth.

Now here's another first.  Panasonic was offering Brazilian blowouts at their huge booth on the trade show floor!  I never would have dreamt it!  CES is such a male dominated show, it was refreshing to see such a service available.  They incorporated a whole salon scene into their booth.  Their main emphasis, of course, was to show their new nanoe hair dryer which takes moisture from your hair and the air and infuses it back in by blowing tiny moisture-rich particles into the shafts of your hair.  My hair was so incredibly soft after they were done.  The Panasonic nanoe hair dryer retails for $179.

Here's one of my favorite products at the show.  It's called the Horizon 2 by Lenovo.  It's an All-in-One computer that is only .8″ thick and measures 27 inches horizontally.  It has a beautiful HD screen and get this…it offers a 4 hour battery.  That means you can unplug it from its cord and move it to another area of the house to stream movies, play games, look at pictures, even work on spreadsheets.  But when you lay it down flat, it takes you to a whole other world.  Up to 8 people can touch the screen at once, making it an incredibly fun game to play games one.  In fact, the Horizon 2 comes with over 60 multi-touch, multi-user games and educational apps preloaded to use in this new interface including ones from Ubisoft and Crayola.
There is so much more we want to tell you about from International Consumer Electronics Show.  Keep an eye out for our Top Trends from CES 2014 and Top Gadgets for Moms from CES 2014.  Fun stuff!