Is it Time to Spring Clean Your PC?
Are you getting the most out of your PC?  Overtime, PC's begin to get run down due to digital clutter, fragmentation, and corruption that occur from virus threats and everyday use.  You may have noticed that your PC doesn't seem to be handle everything as quickly as it used to be.
I have certainly noticed that with my computer.  I'll be the first to admit that I work my computer hard.  Right now I have 59 tabs open in Google Chrome.  And that's after I closed down a number of them!  And this is not uncommon, but more the norm for my daily work.  At the same time, I also usually always have Excel, Word, Internet Explorer (with another 5-6 tabs open), File Manger (with 4-5 sessions open), and a couple of other programs open.
I bought a computer that can handle this load, but I have been having problems lately that have caused long lags and delays, causing me to need to use another computer to finish my work at times.
I'm hoping you don't run your computer that hard, but frankly, you don't need to for clutter and fragmentation to occur.  Is it time for a new computer?  Perhaps not!  You may find that it's time to spring clean your PC to get that hard-working computer back up to snuff.
Years ago, we reviewed System Mechanic 9.5, a great PC cleaner, and loved it.  It's been a number of years now and we recently installed the latest version of System Mechanic 14*!  Hmm, I wonder if I kept using System Mechanic through the years, perhaps I would be using the same PC!
System Mechanic 14
System Mechanic 14 will help you diagnose and repair over 30,000 different PC problems including live updates from iolo Labs.  That's a lot of problems.  As iolo Labs is receiving info about issues that their customers are having with their computers, they are constantly working to create fixes to solve issues that are becoming more prevalent.
System Mechanic 14 is similar to anti-virus software in the fact that it's constantly being updated throughout the year and helping you to ward off PC issues that can immobilize your digital work.
In a nutshell, System Mechanic will help your PC to…

1.  Boost performance – faster start-up, Internet browsing speed, and enhanced gaming performance
2.  Repair issues – with a click of a button you can repair PC issues throughout your computer
3.  Clean-Up – cleans over 50 common types of junk files for a smoother running PC
4.  Protects – plugs up security holes, blocks dangers programs, and protects against faulty settings
Features:
 LiveBoost™ boosts system responsiveness through real-time calibration of CPU, RAM and Drive
Guided Recommendations™ taps into the System Mechanic community to help you gain even more PC speed
Stability Guard™ intercepts stability threats to keep Windows fast and problem-free
NetBooster™ speeds up internet, videos, downloads and games
ActiveCare® uses set-and-forget patented technology to maintain your PC automatically
Total Registry Revitalizer™ resolves registry problems and stabilizes Windows
AcceleWrite® real time technology optimizes file write speeds
PC Cleanup™ cleans up over 50 types of junk files
Program Accelerator™ re-aligns disjointed program files
EnergyBooster™ puts your PC in overdrive for max performance
Memory Mechanic™ reclaims wasted RAM in real time
CRUDD Remover™ locates and removes unused extra programs
Startup Optimizer™ automatically accelerates PC start-up 22 ways
Privacy Cleaner™ permanently wipes internet and chat history, clutter and cache
Pros:
With ActiveCare turned on, I don't need to worry about remembering to run System Mechanic periodically, it runs itself!
I love the LiveBoost Real-time Status graphs – they show me how fast my computer processor is currently running and how many processor cores I'm using
The Dashboard Overview gives me a quick glance at how well my PC is running overall as well as it's health and security
I was able to clean up over 8 GB of clutter, freeing my processor to do other needed things like supporting all of my open browser windows!
I had over 87 possible unwanted start-up problems – System Mechanic provided details about each one so I could make an educated choice which ones to stop
Save money – by keeping your PC in tip-top shape yourself, you don't need to send it to Staples or a PC doctor to fix.  You may also not need to buy another PC anytime soon
Whole House License – wow, I'm taken aback by this one!  As long as your PC's are on the same network, you can load and  use System Mechanic on each PC to manage them better!  No added expense of having to purchase System Mechanic for each PC
The price is discounted right now and reasonable (especially since all PC's in the house are included!)
There are so many tools, we couldn't even mention a quarter of them in this review!
Cons:
The ActiveCare option needs to be turned on in order to actively run in the background to keep your PC clean.  I didn't realize that it wasn't on and could have avoided some PC slow-downs
If you want System Mechanic on numerous PC's, you do need to install it on each one individually (like any PC software works), however, it recognizes the identification code from the first PC you load with System Mechanic, so you don't need to retype in the credentials
Here's my initial report on my PC.  No wonder why I've been having so many issues!  LOL!

With one click on "Repair All" you can fix all of your PC issues.  Click on "View Problems" to get the screen below…

As you can see, i hap 8.56 GB of system clutter!  Ugh!  I have run System Mechanics on various computers in the house, and never have I seen this number so high!  I was so happy to clean it up with a click of a button!

Initially, I didn't turn on ActiveCare.  Turning them on automated tasks will help protect and care for your PC even when you forget.  ActiveCare keeps your system running clean.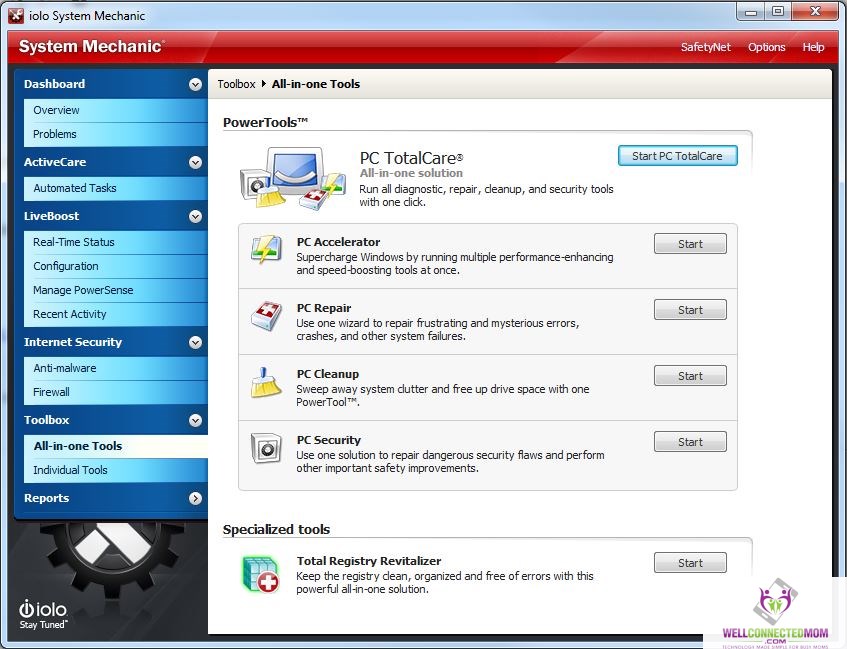 Sometimes you may want to run some tools individually to check in on your computer's stability or performance.  System Mechanic's All-in-One Tools give you more precision over the areas you want to clean up.  I used one of these tools to give me more information about my hard drive.  There are also a number of tools here that are not covered under ActiveCare's automated tasks.

Now this is cool.  As I was working one day, this pop-up appeared, notifying me that I should repair these issues to ensure my computer runs more smoothly.  Love it!
Ready to Spring clean your PC?  The System Mechanic download normally sells for $49.95 but currently is on sale for $39.95 to help consumers with their PC spring cleaning.

A Mom's Perspective
You can't go wrong with iolo Lab's System Mechanic.  It's a solid program that gives you PC performance stats, helpful hints (and steps) on how to fix your PC, and acts as a counselor to help you avoid programs or errors that can get in the way of a healthy PC.
To my surprise, System Mechanic told me that my hard drive is failing.  I have heard an odd clicking now and then for several months now, but didn't know what it was.  My hard drive has YEARS of digital photos and videos on them, stemming back from the early 1900's (scanned pics!).  I would be sick if I lost them.  I am now in the process of moving them to another computer to help preserve them.
If  you haven't cleaned up your computer in a while, now is the time to Spring clean your PC…and keep it (and all your other home PC's) clean throughout the year.
My computer is working great, despite all of my open tabs and programs.  And finally, I can feel better about trying to fix my family's computer needs. With System Mechanic on all our PC's, I can make quick diagnosis…and fixes to get them up and going again.  My daughter seems to have lots of Internet connection issues, there's even a tool to make it easy to troubleshoot…and I'll teach her how to use it and she can fix it herself!
What computer issues are driving you nuts???
*  I was provided with a copy of System Mechanic 14 to conduct our review.  All opinions are my own.