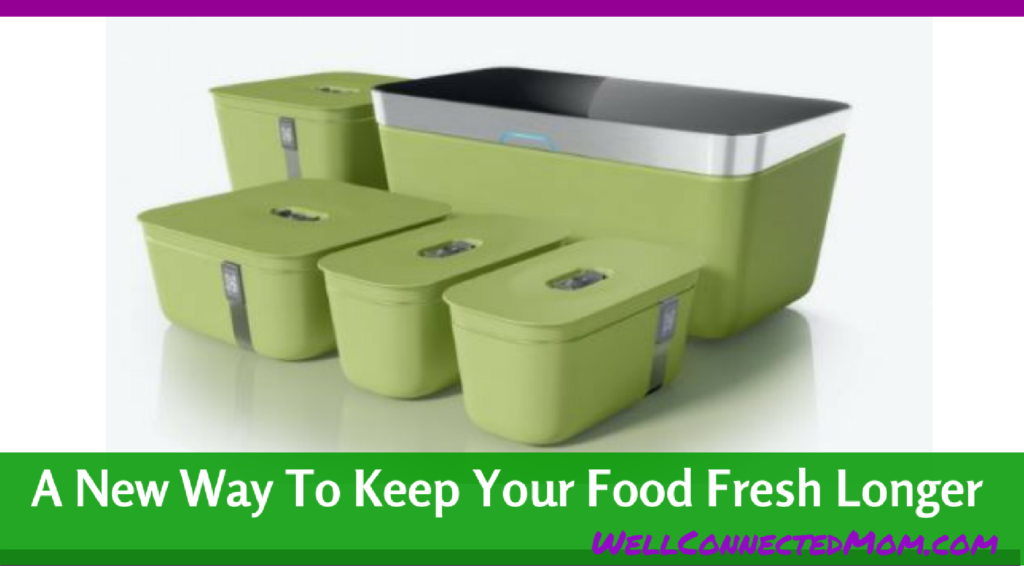 Don't you just love it when fruit looks so good and juicy? I have bought fruit many times on a whim because it looks so scrumptious. I take it home, put it on the counter or in the refrigerator…and then life happens.
I'm off to baseball tryouts, volleyball practice, Family Fun night at the school, an awards assembly. By the time the weekend comes and I remember I bought fresh delicious fruit, it has become mushy and a detectable darker shade of its former self. Ugh.
I have seen those fresh bags at the grocery store – you know, the ones that you're supposed to put your fruit in and the bag helps keep it fresher? Well, I'm not sure if they work, they've been sitting at the bottom of my fruit and vegetable drawer in my fridge for several years now. They are just not at the top of my mind.
Do You Waste Food?
If you waste food, you're not alone. Every year, we throw away nearly 30% of the food we have.
If collected up, there would be enough food to feed up to 2 billion people for a year! OK, now I feel really guilty. I have good intentions but often times reality doesn't intersect with them.
While doing some research online, I recently came across a product I'm very excited to tell you about. It's called
Vacuvita
.
Vacuvita is a food storage system that helps you to vacuum pack your food, offering a shelf life of up to 5 times. Vacuvita helps you waste less food and keeps it fresh longer.
How Do We Waste Food?
There are many ways we waste food:
Throw out food that has been freezer-burned
Moldy or dried out vegetables
Over ripened fruit
Molding cheeses and sandwich meats
Sprouted potatoes
Mushy avocados
Soggy salad
Stale cookies, brownies, and other baked goods
Stale bread
Expired dates on products
Leftovers in the fridge, leftover too long!
Putting too much food on our plate and not eating it all
Did You Know…
Did you know that we are wasting up to 1,300 pounds of food a year…per family? With a better way to store our food, we have the potential to save up to $1500 a year through better food preservation.
So, how do you keep your food fresher longer? With vacuum packing.
Vacuum Pack Your Food The Easy Way
If you're like me, the thought of vacuum packing your food sounds time-consuming, even spaced-aged. Who has time to vacuum pack their food? Vacuvita gets that. That's why they created a way to automate how food gets preserved, using today's technology.
Food spoils due to microorganisms which need oxygen to live. We can't eliminate them, but we can greatly reduce microorganisms' growth by removing oxygen and light.
To do this, Vacuvita made the Home Base. Simply place your food items in the Home Base, close the lid, and press the button. Immediately you'll hear the air being vacuumed out of your food. Sounds cool, huh?
Want to access your food? Simply press the illuminating button on the side and the lid mechanically opens up for you. This is really cool, it's so sci-fi!
The Vacuvita Way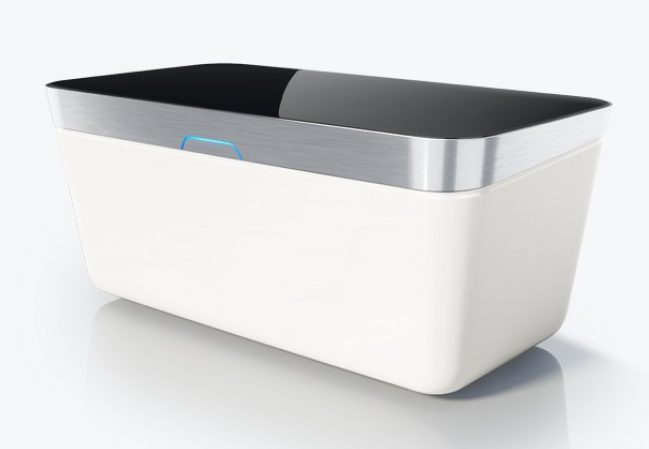 The Home Base is the engine behind the Vacuvita Home System. I like to call it the "modern breadbox," as it's perfect for storing bread, rolls, and more. But there is much more to Vacuvita than just the Home Base.
To expand vacuum packing to more of your foods, Vacuvita offers a number of reusable food storage containers available in three sizes:
1-quart
2-quart
1-gallon
These are heavy-duty BPA-free square containers, made to be stackable and fit conveniently in your refrigerator or freezer. And I love that they, along with the Home Base, are available in five different colors to suit your kitchen…or your personality!
White
Yellow
Blue
Green
Black
These unique containers are dishwasher safe and have a small transparent window that is big enough for your to see through it, but at the same time, minimize the amount of light that gets in, which effects food's color and nutrition.
To vacuum pack the Vacuvita containers, you simply attach one end the flexible hose to the Home Base and the other end to the top of the Vacuvita container. Press the LED circular light on the top of the Home Base and the vacuum suction begins.
The process takes a couple of minutes while you do other things. Then keep your Vacuvita containers on the counter, or place in the fridge or freezer.
What Do You Store In The Home Base?
You can store all sorts of things in the Home Base like bread, cookies, fresh fruits and veggies, coffee beans, chips, and so much more. But there are a few things to avoid using with Vacuvita, like those listed below.
Freezer Bags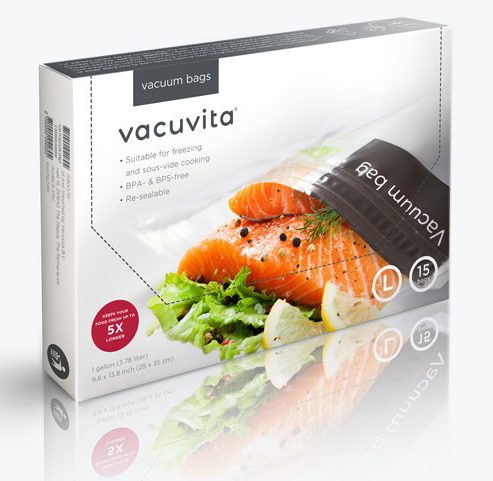 Although the Vacuvita containers are made for the freezer and fridge, you can also purchase Vacuvita Freezer bags to vacuum pack your meats, vegetables, and leftover dinners. The Vacuvita Freezer bags are BPA and BPS free and made out of a strong layered plastic.
Use the hose adapter from the Home Base to remove the air and preserve freshness with the freezer bags. And with their resealable feature, you can take out the quantity you'd like and reseal the bag for further storage. Handy, huh?
We're Testing Vacuvita Now
We are currently testing Vacuvita's Home Base, containers, and freezer bags to see if Vacuvita is a viable way to freshen food without a lot of work. As a person with Celiac who can't have wheat flour, I am excited about finally being able to keep my cookies and breads vacuum packed and fresh, as opposed to needing to keep them in the freezer.
Gluten-free items often don't keep fresh as long as their wheat-filled counterparts.
I am also excited to extend the life of my fruits and vegetables as well as try marinating my meats in Vacuvita to speed up the marination process. To learn more about how you can extend the freshness of your food, see this handy table from Vacuvita.
There are so many uses for Vacuvita. We will get back to you within the month with a full report!
Have you ever vacuum-packed your food before? What do you use and what has been your experience?
* I was given a Vacuvita Complete Kitchen Package in exchange for my honest review. All opinions are my own.