The Well Connected Mom gets more website visitors in the months leading up to Christmas than any other time of year. Why? Because tech items are always great Christmas gift ideas for learning, discovery, STEM education, or just pure fun.
We have gathered up a fun collection of cool tech gifts for kids we think you're going to like…and even enjoy playing along with your kids.
1. Bluebee Pals

Bluebee Pals are great Christmas gifts for any child. Choose from 5 cuddly cute Bluebee Pals, including a Lion, Puppy, Zebra, Bear, and Lamb – each has the ability to talk to kids through the use of lip syncing and a Bluetooth-enabled phone, tablet, or laptop.
Each Bluebee Pal moves his/her lips in sync to the music, audio book, phone call, video, speech and therapy apps, and more via Bluetooth from a phone, tablet, or app.
The options are endless to engage your child with his/her Bluebee Pal through songs, learning apps, family recorded voices, even hearing Bluebee Pal mimic Gramma talking on the phone. With Bluebee Pal's built-in speaker and microphone, your child can even answer back Gramma.
Bluebee Pals can connect to any iOS or Android phones, tablets, or laptops that are Bluetooth-enabled. They come with a built-in battery, chargeable through micro-USB.
Unlike other types of "tech" stuffed animals, Bluebee Pals are amazingly soft and cuddly, just like a real stuffed animal. In fact, I'd say they are very huggable and soft. Even my 11-year old son loves hugging the Bluebee Pal Lion and having a friend lip sync his favorite games with him as he plays.
Bluebee Pals, including Riley the Zebra, Sammy the Bear, Hudson the Puppy, Lily the Lamb, and Leo the Lion are available on Amazon for $64.99 plus free shipping.
2. Mattel NABI SE Tablet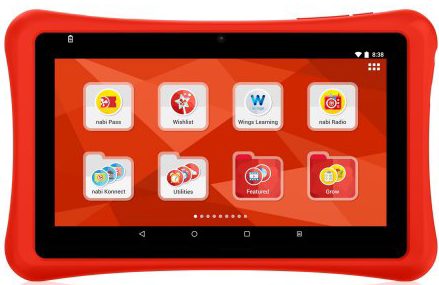 Mattel recently bought the popular Nabi kids tablet company, bringing to the brand more resources, better support, and innovation to an already great tablet. The NABI SE tablet is based off Nabi's top-selling tablet to encourage creative play and personalized learning.
The NABI SE includes over 400 interactive play, creativity, learning, and entertainment opportunities for kids and parents and is based on an Android operating system. Its familiar red bumper protects the tablet for bumps and falls and is very comfortable to hold.
The NABI SE Wings Learning System is a learning environment f or kids from pre-K through 5th grade which uses gaming to tech kids fundamentals in math, reading, and writing. Wings offers more than 300,00 questions and 16,000 lessons.
The NABI SE's Dream Pro Studio encourages kid's creative side by helping them make storybooks, movies, and use drawing tools.
People often ask us why buy a kids tablet, why not just give your child your old tablet or iPad. Although it's true that there are learning apps available for non-kid focused tablets,
kid-based tablets are beneficial because they…
1.) Often have learning environments that combine a ton of apps, games, and activities that build upon skills for a certain age
2.) Come with a bumper pad case to protect against drops
3.) Have built-in software, like NABI's Time Controls, that allow parents to manage and monitor screen time – setting limits to apps and time played
The NABI SE 7″ Tablet is available at your local Walmart for $79.00. It is not available at Walmart online.
3. Sesame Street Elmo Kinsa Ear Thermometer

The Sesame Street Elmo Kinsa Ear Thermometer makes taking a child's temperature a lot more fun. We are big fans of Kinsa, and have used a Kinsa thermometer for a couple of years now. Kinsa makes it easy to track temperatures and symptoms via your smartphone and its connectivity to the thermometer.
The Sesame Street Elmo Ear Thermometer provides a comfortable ear probe with a lightening-flash one-button temperature read.
Once a temperature is taken, the info. is transmitted via Bluetooth to your smartphone Kinsa app. Here you can record any symptoms, diagnoses, medication doses, and notes and Kinsa will keep track of all temperatures for all of your family members. You'll never forget when your child had had croup last.
But Kinsa does even more for you. The app will offer real-time guidance on your next steps based upon the temperature and age. Kinsa will even tell you what's going around in your area.
But what makes the Sesame Street Elmo Ear Thermometer the best for your child is Elmo! Your child will love the look of the Elmo thermometer and when you select different symptoms in the app, Elmo makes funny comments.
The Kinsa Sesame Street Ear Thermometer is designed to make illness easier on parents and kids. Elmo's comfortable ear probe is gentle on babies, and Elmo's one-button nose temperature read makes it fast and easy for parents.
The Sesame Street Kinsa Ear Thermometer is available at Kinsa for $59.99 plus free shipping.
4. My Friend Cayla Party Time!

In addition to talking stuffed animals, we recommend a talking doll called My Friend Cayla Party Time! Although Cayla doesn't technically move her lips, she can do a world of other things.
This beautiful 18-inch classic doll can amazingly recognize what is being said to her. Using her remarkable voice recognition software, Cayla PartyTime! can talk to your children about anything, answer tons of questions…even about herself! Cayla can answer over 1,000 questions about herself alone.
Cayla can tell stories, play games, share photos from her photo album, sing, and answer questions, using Bluetooth technology to search the Internet through the MyCayla app on your smartphone or tablet. Kids can ask her questions about geography, history, math, spelling, fashion, holidays, and so much more!
New this year, Cayla has MyTouch technology where she will be able to recognize and magically speak about her accessories as you place them in her hand…even without the use of a smartphone.
My Friend Cayla PartyTime! comes with a brush to brush her hair and is designed to wear the same clothes made for other 18-inch dolls. Cayla is more than a doll, she's a friend too.
My Friend Cayla PartyTime is available in blond, brunette, and African American at Walmart for $59.93.
5. MAX Rumbler

Talk about a toy that's a lot of fun, the MAX Rumbler is perfect for any boy 8 years and older. For only $15, this fun remote control car delivers over 8 fun stunts and tricks. With its over-sized super grip tires and high speed, the MAX Rumbler can jump, bounce, vertically twist and spin, dance, and even flip.
It's a two-wheel stunt car capable of 360 spins, 180 flips, rolls, tumbles, and more. The MAX Rumbler is lightweight yet tough and can be used indoors or out. It's sure to delight kids with it's LED lights, tough personality, and easy-to-use remote control.
The MAX Rumbler is available from Amazon for $14.99 plus shipping.
6. Triby Communication Center

Triby is a family communication center device with strong magnets that hangs on your refrigerator. Triby is unlike anything we've seen before, it's unique and it continues to innovate with valuable features to make Triby a valuable family communication center.
Triby is ideal for kids 11 and younger who really have no great way to communicate with you when you are away from home. With it's two parent-programmed buttons, you can enter two phone numbers behind the Phone buttons on the front of the Triby. With only the need of WiFi access, your child can press one of the Phone buttons to call you anywhere as well as the other person you programed the number for.
My son doesn't have a cellphone and he loves being able to easily call me without needing to know my phone number. Using Voice over the Internet, calls are free and immediate. I can likewise call Triby to speak to my family when I'm out of town. My kids know Triby's special ring and run to it to answer when I call. It uses a speakerphone when I call in, so everyone can hear.
There's also a great messaging feature where I can use the Triby App to draw, type, and/or hand-write a note and send it to appear on Triby. When messages appear, you see them on the Triby screen and a yellow plastic flag sticks out from the side of Triby. I know my kids have read the message when they tuck the flag back inside. I love sending them notes when I'm out of town to let them know I'm thinking of them.
Another great feature is Triby is one of the first non-Amazon products to feature Alexa built-in. I keep Alexa near by desk when not traveling so I can ask Alexa what the weather is like, the hours of a store I want to shop at, ask her to play one of my favorite songs, or even to keep track of my shopping list for me. My kids love asking questions for school too.
Made with a built-in handle and bumper case for protected carry from room-to-room and an always on 2.9 inch e-paper (always on) screen, Triby is a great tool for both kids and their parents.
Triby is now on sale at Amazon for a fantastic price of $101.61 plus free shipping. The retail price is $199, so this is a steal.
7. Kano Computer Kit Bundle

The Kano Computer Bundle Kit allows kids ages 6+ to make their own computer and monitor, following a simple story book. Once created, kids can play games, videos, and music as well as make art and program. Both the Computer and Monitor kits come with their own instructional story book and the modules and pieces needed for kids to build their own computer and monitor.
The Kano Monitor comes with a 1280 x 800 720p display, with over a million pixels, giving a nice sharp HD picture. The kit even comes with a magnifying class so kids can actually explore the pixels up close. The Kano Monitor can be used alongside your Kano PC, used as a second monitor on a laptop or desktop PC, or even as a monitor for your favorite gaming consoles like XBox, Wii, and PlayStation.
The Kano Computer comes with all the bits, boards, and cables needed to make the PC. The only thing missing is the monitor, which of course can be made using the Kano Monitor Kit. Once created, kids can play games and learn to program…from simple code to full Javascript and Unix commands if the child desires to go deeper into coding. Step-by-step coding challenges help kids to level up to more advanced skills.
Kids can code flowers, artwork, and games like Pong and Snake. They can even learn to hack their favorite game, Minecraft. There are thousands of open-source apps kids can download to adjust to their liking. Games include a powerful synthesizer to code your own music. Terminal Quest – reminds me of when PC's first came out – where you use Linux commands to solve a mystery, one line at a time.
You'll find a web browser, text editor, YouTube, Scratch, Codeacademy and lots more of great resources already loaded on the Kano computer and hundreds more available in the app store.
Kano offers kids a chance to get a look "inside" a computer and monitor as well as the opportunity to put the pieces together to build their own computer and monitor. And of course, the icing on the cake is when they plug it in and it works like a real computer. The Kano Computer Kit Bundle is an inexpensive way to give your children a PC that encourages STEM skills.
Get the Kano
Computer Kit Bundle
(screen & PC) for $299.99. But here's a great Black Friday deal…get the combo kit for $239.99 plus shipping.
8. Get It Hoops

Who doesn't like a game of impromptu basketball? Attach the Get It Hoops backboard easily to your door for an instant court. This unique D. Wade autographed backboard with live action sounds and action sensor rim records baskets and and keeps score on the spot by sending signals to your Get It Hoops app on your phone.
Play an All Star game, arcade style, solo, one-on-one, or even full court (with two Get It Hoops), with the basket and app catching all scores. Hear the audience erupt in applause and cheers when the game is going good.
Get It Hoops is easy to install, just hang it over the top of an inside door and you're ready to go. Get It Hoops amps up the excitement of bedroom basketball through the free Get It Hoops app scoring and live audience simulation.
Get It Hoops is available from the Walmart for $19.99 plus shipping.
9. Itty Bitty City

Microduino's Itty Bitty City is tan 8-in-1 complete project kit that gives kids a chance to build 8 projects which introduce new concepts relating to programming and electronics.
This ultimate STEM kit uses LEGO compatible pieces for builders or all levels. Step-by-step projects include:
Piggy Bank
Reflex Battle
1-on-1 Basketball
Windmill
Lighthouse
Music Box
Nightlight
Smart Car
Using Microduino's all-in-one mCookie Series modules, there's no need for messy wiring or soldering. Since Itty Bitty City parts work with LEGO's, your child imagination can run wild, giving him/her unprecedented ways to "power" his/her LEGO-made boats, cars, houses, and more.
The brains of the Itty Bitty City projects, the mCookies, do need to be programmed, but all the code is already written, with hundreds of projects with online tutorials available. Itty Bitty City is a fantastic tool for kids to understand coding and how it works to power the LEGO creations, without needling to know how to code.
But here's the thing. Say your child loves that s/he has created her own nightlight, but wishes she could adjust the timing of when it turns on and off. Each Itty Bitty City project comes with code that can be customized. So your child can change the code his/herself with just a few simple values to make his/her project behave entirely differently. It all depends on the interest level of your child – they can dive in as deep or as little as they want and still have a cool performing toy.
Projects also have a Brainstorming section which challenges kids to make some really fun upgrades to their projects.
Fun for both kids and adults, and an incredible learning STEM toy, Itty Bitty City is sure to delight.
The microduino Itty Bitty City can be pre-ordered from the microduino website for $129 plus shipping. Itty Bitty City will begin shipping within 2-3 weeks.
10. Just Sing, (Xbox One, PS4, ESRB E10+)

A new game by Ubisoft, Just Sing is the game your older kids have been asking for – the ability to sing or lip sync to over 45 music tracks to some great songs. Don't want to sing alone? No problem, sing with up to 3 friends and mix it up by changing themes and filters as you perform.
Tweens and teens will love Just Sing. To play, pop in the Xbox One or PS4 video game and download the Just Sing Companion App to the smartphone of all participating. Smartphones become both the microphone and camera for all the action-packed fun.
Video can be saved locally or shared with friends. Sing to songs like Imagine Dragons' "Radioactive" to Justin Bieber's "What Do You Mean?," and a bunch more like…
"All About That Bass" – Meghan Trainor
"Drag Me Down" – One Direction
"I Want To Break Free" – Queen
"Chandelier" – Sia
"Love Me Like You Do" – Ellie Goulding
"One More Night" – Maroon 5
"Radioactive" – Imagine Dragons
"Can't Feel My Face"
"I Love Rock 'N' Roll"
"All Of Me"
"Baby One More Time"
"I Will Survive"
"Colors of the Wind"
"I Want You Back"
"Kryptonite"
"Rude"
"Stand By Me"
"Take On Me"
"The Fox"
Just Sing as two modes:
1. Party Mode – where up to 4 singers sing or lip-sync along with the music, making their own music videos to be seen on the Just Sing video game screen.
2. Battle Mode – singers compete against one another with access to special effects to make the battle more interesting.
To ensure each of the performances sync up to the video, you will need to ensure everyone is on the same WiFi network. Similar to the Karaoke app by Smule, Sing It ups the ante by by offering up to 4 players at once, fun special effects, and the ability to watch 4 singers simultaneously perform one one screen, powered by a gaming console.
And with favorites like "Stand By Me," "All of Me," and "I Love Rock and Roll," adults will find it hard to keep seated and watch, they'll want to be a part of the action too.
Just Sing is available for Xbox One and PS4 from Amazon for just $18.50, a special Back Friday price.
See any of these Christmas gift ideas that sparked your interest? Or have other great Christmas gift ideas you want to share? Leave a comment below. Happy shopping!
* We were given and evaluated each of these Christmas gift ideas to ensure they were worthy for our Top 10 Christmas Gift Ideas for Kids list.